---
---
Finalist for Baker Artist Award

These 38 artists were selected from over 900 artists who created a Baker Artist Portfolio in 2019. An anonymous jury selects artists who exemplify excellence in three areas: mastery of craft, artistic excellence, and a unique vision.
---
By Eli Zeger, City Paper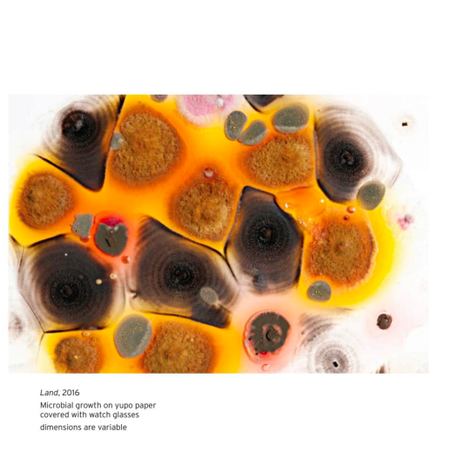 "Selin Balci also considers space exploration, though it's from a more removed perspective. Balci's piece is a magnified image of a series of petri dishes, with each simultaneously functioning as zoomed-in representations of cells. It's large and spreads across most of the wall—most visible, like a microscope, from far away. When you take three or four steps back, 'Land' forms a constellation of sorts in which the dishes are gathered in clusters that meander in a downward slope. In the past, Balci has organized them into the worldmap, and in 'Land' she uses these petri dishes, which quarantine the smallest of humanly known substances and each act like their own star, to emblematize outer space phenomena—the most humanly inconceivable shit ever, really. The piece is a convergence of the most extreme forms of zooming-in and zooming-out. For Balci, microscopes might as well be telescopes."
---